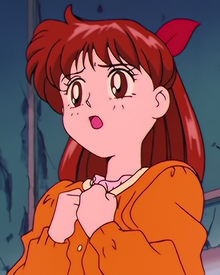 In Sailor Moon S Episode 2, Crystal Clear Again, a girl was taking care of the stray kittens, whose home is going to be torn down. Serena and Darien offered to help her take care of them, but she was the second target of Kaorinite, who planted a Daimon pod in her puzzle to create Nekonnell, who extracted her Pure Heart, but not without being attacked by the kittens first. However, Sailor Uranus and Sailor Neptune returned the Pure Heart to her after realizing that it was not one of the three crystals. Afterward, Serena contacted the animal shelter, which took all the kittens in.
Trivia
At the end credits of the episode, it is revealed that the girl's name is Miharu, much like the Super S character.
Community content is available under
CC-BY-SA
unless otherwise noted.