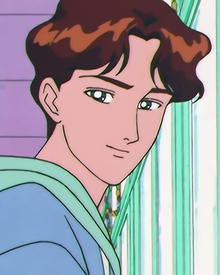 Mr. Honjo is the principal of a kindergarten school. In Sailor Moon Super S Episode 27, Nightmare Garden, Lita and Mina fell in love with him. He was also targeted by Selesele, after receiving a picture of him from Zircon and Zirconia. Selesele extracted his dream mirror, which was not the golden mirror, and her Remless, Jarajara, ate his dream mirror, but it was returned to him after Jarajara was destroyed.
Mr. Honjo's son, Kotaro, is a brat, who was being rude to Mina, resulting in her chasing him around and destroying a room, starting a fight between Mina and Lita (which finally ended when they saw the trouble Selesele and Jarajara were causing, and used their new attacks).
Both Mr. Honjo and his son were seen among the many people around the world, powering up the Golden Crystal by saying "Moon Cosmic Dream Action" in Episode 38, Golden Revival.
Community content is available under
CC-BY-SA
unless otherwise noted.